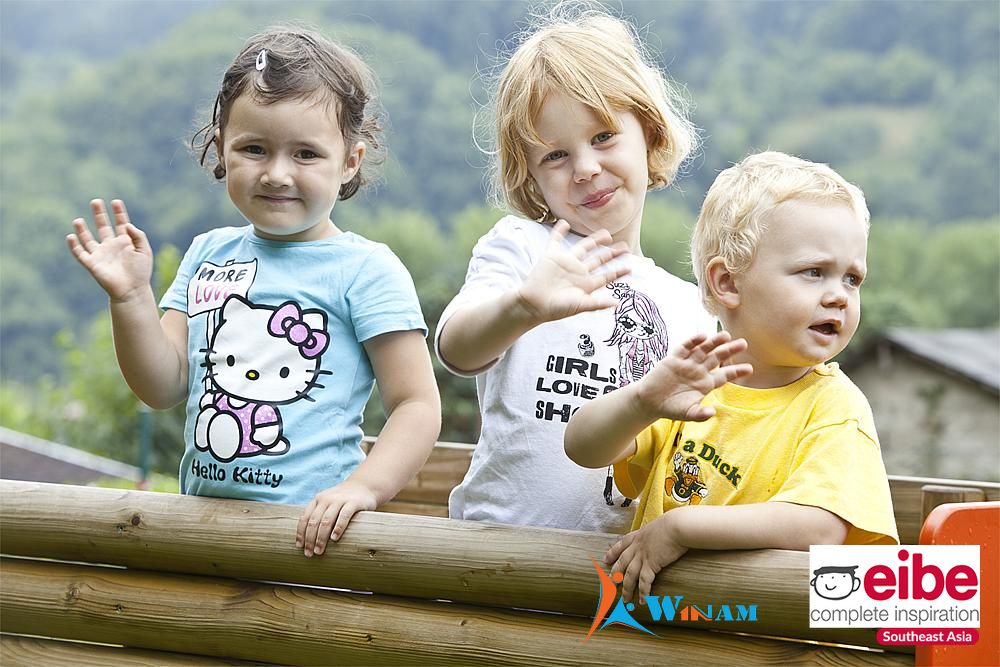 WINAM is proud to be the exclusive distributor in Asia of the famous EIBE playground equipment brand from Germany. EIBE Company highly appreciates WINAM's professional capabilities and facilities to operate, cooperate, and develop together. We want children around the world to play most safely.
WINAM –  THE GENERATIONS INSPIRATION
WINAM Playground Equipment Co., Ltd specialized in supplying and selling large, medium, and small-sized children's playground equipment. As the playground industry's global market leader, we are continually striving for development and innovation.
The playground Equipment for a Lifetime of Play
WINAM Playground Equipment designs recreation spaces for all ages, abilities, and levels. Our experienced and trusted team has worked very hard to uphold friendly and professional services providing high-quality playground products.
We Have Always Been Focusing On Supplying Non-Toxic And Environmentally-Friendly Products
We are committed to only designing, distributing playgrounds that comply with International Safety and Quality standards.
Based on best-practice research from leading experts, our products help children establish healthy habits for life and promote health and wellness. If you're looking for a playground manufacturer who offers more than the competition can, choose WINAM Playground Equipment. We can help you by providing our best play solutions.
Our Vision 
Desire and determine to become a leading playground equipment supplier in Asia.
Our Mission
With the desire to "bring people closer to nature" and bring laughter and health to our local, regional, and global communities, our company always follows trends with good-looking, creative, durable, safe, and user-friendly products.
Our Core Values
Professionalism – Quality – Efficiency

THE EIBE BRAND WORLD
The eibe bring great fun for playground users of all ages. Our brand products are versatile and beautifully crafted. A diverse design and top product quality speak for long-term investments. Despite the low maintenance costs, safety is guaranteed at all times.
The eibe – A family business with global appeal
Initially, a small carpentry business, today's eibe is a successful worldwide family business. The main production base is located in Röttingen: The production facility in Röttingen is one of the most modern facilities for developing and producing play equipment in Germany. Here we have – exclusively for you – eibe ORIGINALS. We are always pursuing our goals: Create play devices that support children, challenge teenagers, accompanying adults, and bring great joy in physical activity.
Development of play equipment
The name "Eichinger" was first mentioned in the church records of the town of Röttingen in the 15th century – The Hartmut Eichinger Company originated in this early carpentry business. That was in 1975, and the official name was changed to eibe. Today eibe is one of the leading playground equipment manufacturers, with more than 300 employees worldwide, engaged in the design, manufacture, and sales of eibe high-quality products.
The eibe is still in the family
Tilo Eichinger has been the owner of the eibe since 2005, upholding a tradition of family success, in which ownership of the company is passed down from generation to generation.
Today, CEO Tilo Eichinger holds the chairmanship of BSFH (German Federation of Amusement Center and Entertainment Manufacturers, e.V.).
Because of his successful business operations, he won the Oskar Patzelt Stiftung "The Grand Prize for Medium Enterprises" by Oskar Patzelt Stiftung in 2011. He was a finalist of the "Entrepreneur of the Year" contest several times Ernst & Young.
Our secret to success: Highest quality and thoroughly inspiring play equipment!
It is not without reason that our playground equipment fully inspires the young and the old and let our customers fully trust us.
The following principles are an integral part of our corporate philosophy
Everything we do puts the customer first! Customer orientation and profitable customer relationships are our top priorities for long-term success.
Quality, safety, and environmental awareness are strategic imperatives! We act responsibly towards society and the environment.
With our playground equipment, we want to enhance the health of children, teenagers, and adults!
We develop playground equipment that consistently conforms to current standards: We document and link our knowledge permanently and always self-update. With teamwork and a network mindset, we ensure the skills of all our professionals under one roof.