Jolly Holly Hill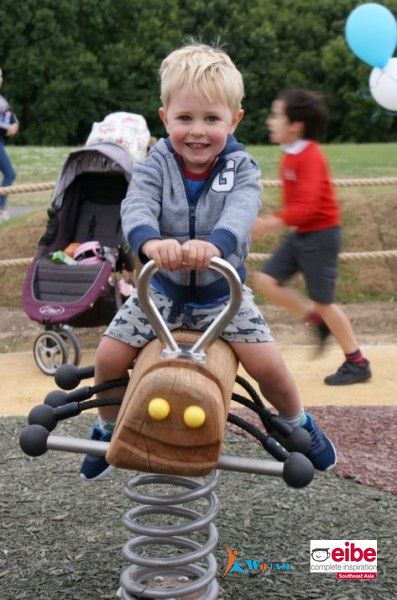 Two schools got jolly lucky and had first use of the brand new adventure playspace at Holly Hill Leisure Centre recently.
Officially opened by the local mayor on Friday, July 21st, children from Sarisbury Infant & Junior Schools and Park Gate Infant School were thrilled to be invited to try out the new equipment at the park, courtesy of Eibe Play and Fareham Borough Council.
Working in conjunction with Emma Watts, Leisure & Community Manager, Eibe won a competitive tender process earlier in the year. The project then centred around a host of great Robinia equipment. The traditionally metal playground has been transformed into a more natural wonderland with plenty of wooden play products.
The centrepiece is our Spirit of the Wood unit, which unsurprisingly was what the youngsters all sprinted towards, as witnessed on the accompanying video on Eibe's YouTube page. Eibe's creative director David Hibberd, who lives just a stone's throw from the new park, oversaw the final completion, spending several days installing and making everything perfect for the big opening.
"It is always rewarding when you see so many kids enjoying themselves," said David, "I think Holly Hill will be busy every day during the holidays."
Emma Watts is also optimistic, having watched an amazing 30,000 likes been added for the park on Facebook, while Councillor Susan Bell, Executive Member for Leisure and Community, said:
"The play area is a fantastic addition to the Borough. We have provided equipment for all ages and very much look forward to seeing families take full advantage over the summer."