Queen's Victorious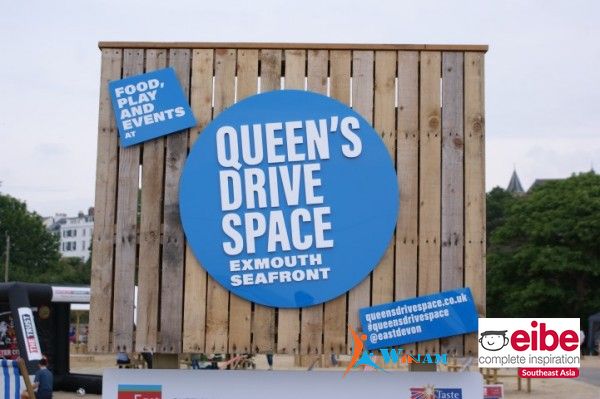 Eibe Play is thrilled to unveil its latest Jurassic-themed destination park in Exmouth, Devon. Queen's Drive Space is a brand new seafront attraction that comes courtesy of East Devon District Council, Taste of the West and the Oddfellows Bar. Having radically transformed the beach front around the popular coastal town, the council were delighted to see the project finally come to fruition, officially opening the dynamic dinosaur park on May 26th 2018 in time for a hectic summer.
Working closely with the council's senior engineer, Dave Cook, since the original tender towards the end of 2017, eibe's credentials in producing outstanding dinosaur parks really came to the fore – our Southwater Park scheme in Horsham won several awards – so we were delighted to be awarded the £150,000 project around Christmas time.
In the early part of the New Year, we began work on manufacturing bespoke units including a giant lifelike Brachiosaurus, which is clearly visible form the sandy beach. Surrounding the prehistoric beast is a host of other great wooden equipment including our huge Old Wise Tree, a tailor-made robinia plane wreck, as well as a mixture of swings, a dinosaur nest with platforms and nets, concrete eggs, sandpit with fossils, stand-up seesaw and a Terion unit – so many great items in one amazing playspace!
The Open Day was a fantastic occasion, with the local mayor in attendance, alongside local excited school children. The playground sits next to a new outdoor section for food and drink, (the original paddling pool zone having been refurbished) as well as an Events Area for music and live shows.
Dave Cook was full of praise for the eibe team:
"Just want to thank you all again for delivering this magnificent play area. I went there yesterday morning and there were approximately 150 parents and children loving the facility with many queuing to use the equipment. Most of the children using the slide were going down head first! Great to witness and see the fruits of your labour. Please pass on our thanks to Ryan and the installation team. I hope we can work together again soon."
Below the pictures, you can read a selection of quotes summing up what the children thought: